Discussion Starter
·
#1
·
Ich / Ick –
Symptoms -
White spots that look very similar to grains of salt or white sand on the skin.
Scratching against objects (skin irritation)
Clamped fins, may "hang" and gasp near surface if infection reaches the gills.
Treatment –
Raise the temperature to around upper 70F to 80F, there is also a lot of medication available at LFS. Giving fish a salt bath is also helpful.
Pictures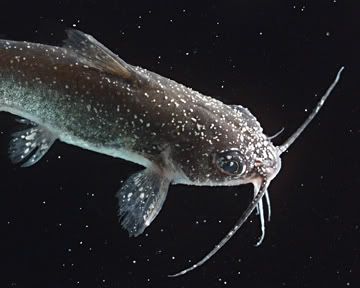 Fin / Tail Rot
Symptoms –
Ragged or split fins, frequently white around the edges. Fin and tail rot can arise from importation, rough handling, fighting, and fin nipping – overcrowding, poor nutrition, and bad water conditions can also contribute.
Treatments -
Frequent water change; make sure your tank is cycled. Test for ammonia, nitrites, nitrates.
Pictures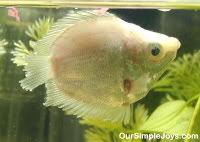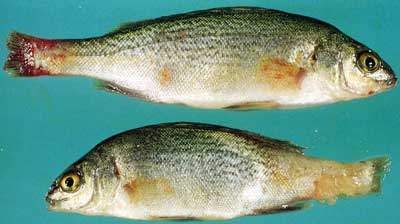 Body Fungus
Symptoms –
White, brown, or gray cotton-like growths on the fins or skin of brackish and freshwater fish
Treatments –
Medication available at LFS
Pictures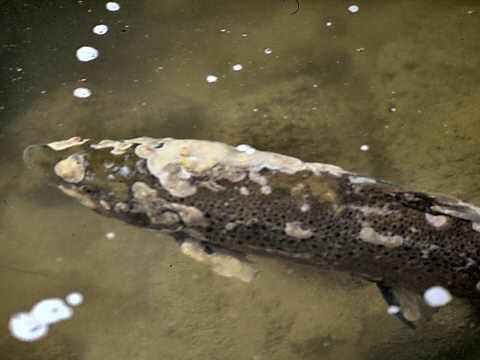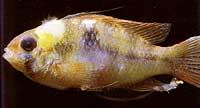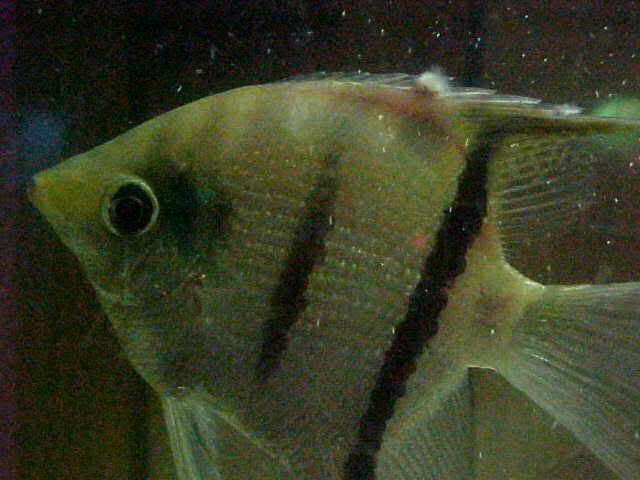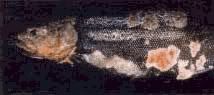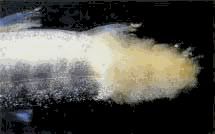 Mouth Fungus
Symptoms –
Hazy-white marks can be seen on the body, fins, and mouth of the fish at the onset of the disease. Cotton- or wool-like tufts appear in the mouth area, and most fish lose their appetite and appear quite thin.
Treatments –
Medication available at LFS
Pictures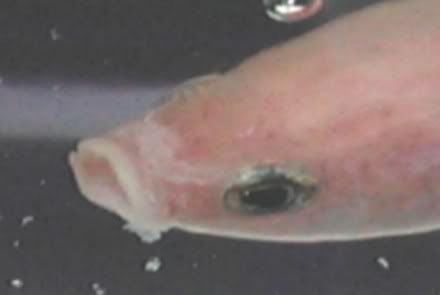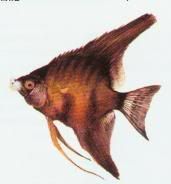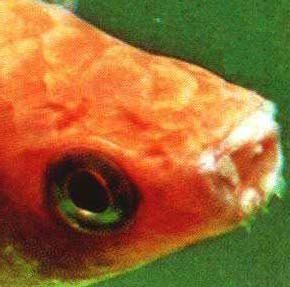 Columnaris
Symptoms -
The mouth "fungus" is commonly called cotton-mouth because the fish's mouth seems to be covered with a thread-like cottonish substance. Since the initial leisions look somewhat like cotton, columnaris is often confused with true fungus. Note that when examined very closely, fungus has distinct hair-like filaments which shoot out, whereas columnaris is more like fuzz or lint.
Columnaris usually affects the mouth area but can also appear as yellowish-brown, white, or grayish-white spots on some part of the head, fins, gills, or body which are usually surrounded by a reddish area. This type commonly takes what is known as a saddleback pattern on the fish's body.
Treatments –
Malachite green (except for fry), salt or antibiotics as last resort
Pictures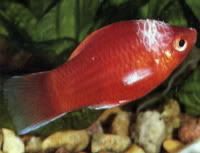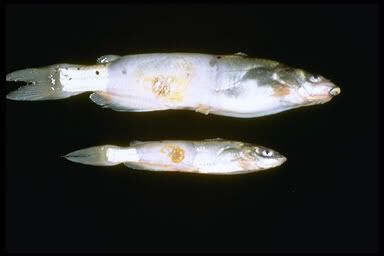 Dropsy
Symptoms –
The fish's body will become swelled with fluid it is unable to expel. Eventually the swelling will cause the scales to raise, giving the fish what is called the "pine-cone" appearance.
Accute Dropsy: Sudden swelling: A bacterial infection will cause internal bleeding.
Chronic Dropsy: Slow swelling: Growing tumors, or even parasites, in the fish may cause it to swell.
Chronic Dropsy: Slow swelling: Mycobacterium tuberculosis. Highly contagious!
Other unknown causes, such as a virus, or permanent damage to the fish's internal organs. Damage to kidneys can occur due to over-use of medication or use of too strong of medication.
Treatments –
It is usually fatal and not curable. However, if infection is due to bacteria, try salt bath, anti-biotic
Pictures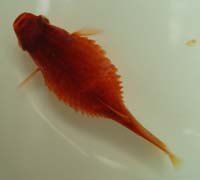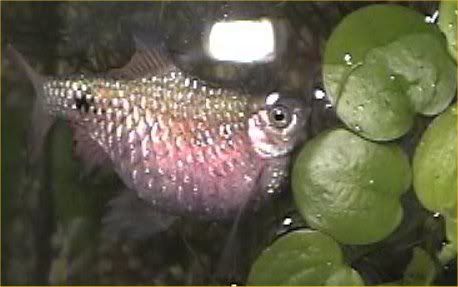 Velvet
Symptoms –
Scratches against hard objects
Fish is lethargic
Loss of appetite and weight loss
Rapid, labored breathing
Fins clamped against body
Fine yellow or rusty colored film on skin
In advanced stages skin peeks off
Treatment –
Raise water temperature to upper 70F to 80F, dim lights for several days, add aquarium salt, treat with copper sulphate for ten days
Discontinue carbon filtration during treatment
Aquarium Pharmaceuticals General Cure, Jungle Velvet Guard, also, many of the same cures for ich and other parasitic diseases will work.
Pictures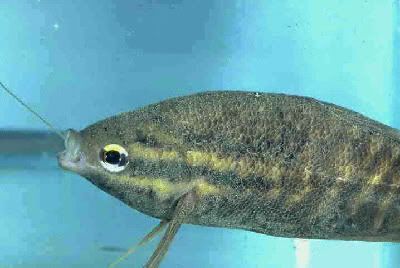 Hole-In-The-Head (HITH)
Symptoms –
Small pits or holes develop in the sensory regions of the head and body, especially along the lateral line. Sometimes have trouble swimming due to lose balance
Treatment –
There is varies of medication from LFS. Feeding a varied, nutritious diet can contribute to healing and positively affect overall fish health.
Check
http://www.worldcichlids.com/diseases/Adamhith.html
for more info.
Pictures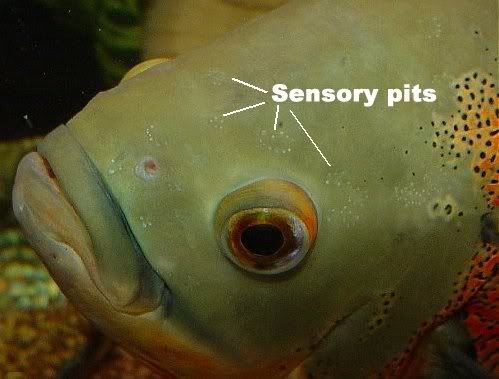 Neon Tetra Disease (NTD)
Symptoms –
Heavily infected fish lose color (esp. the red stripe in Neon Tetras), have curvature of the spine, fin rot, and emaciation. Tetras seem especially susceptible to this infection, although other fishes can be affected as well.
Treatments –
No known, dependable cure at this moment.
Pictures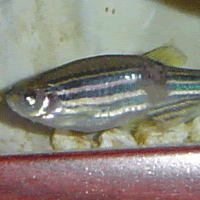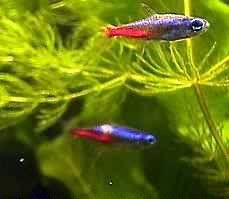 Pop Eye
Symptoms –
Fish eye pops out, lose vision
Treatments –
Medications from LFS, frequent water change; make sure your tank is cycled. Test for ammonia, nitrites, nitrates. Also add aquarium salt, 1 teaspoon / 5 gallons would help.
Pictures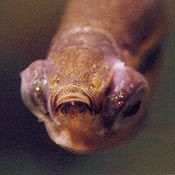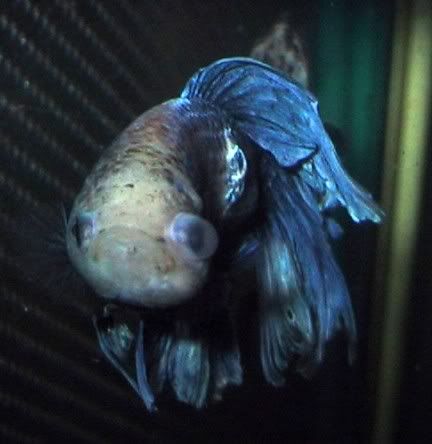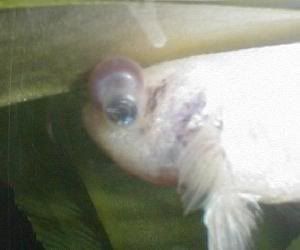 Cloudy Eye
Symptoms –
Fish eyes look white or grayish, cloudy. It will cause blindness
Treatments –
Frequent water change; make sure your tank is cycled. Test for ammonia, nitrites, nitrates. Wait a week or two before using anti-biotic medication.
Pictures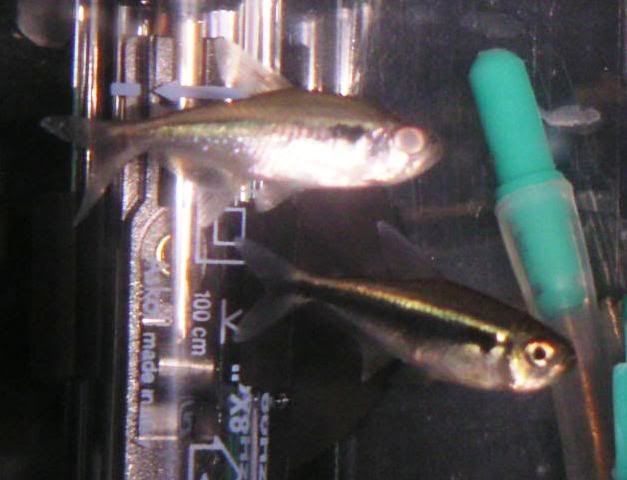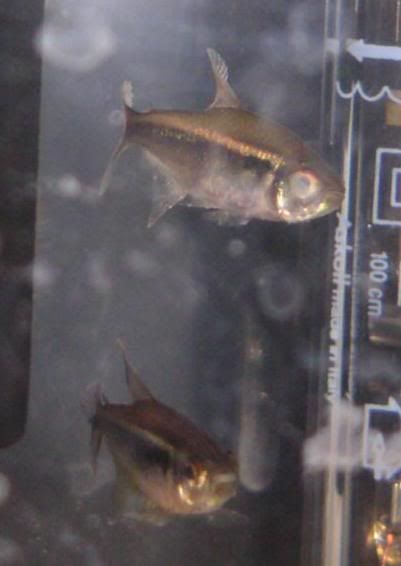 Fish Tuberculosis (TB) HARMFUL TO HUMAN!!
Symptoms –
Loss of appetite, pale and emaciated appearance. Clamped fin, refuse to eat, hiding behavior.
Treatments –
There is no known treatment, maybe strong anti-biotic.
Pictures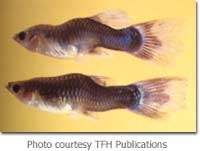 Swim Bladder Disease
Symptoms –
The fish whirl or wobble around the aquarium.
Fish will sometimes float upside down, or show some bloat. This disease usually has no physical sign.
Treatments –
Different depending on species; goldfish are very susceptible and sometimes cured by discontinuation of diet and salt bath, followed by change in diet to high fiber digestible foods. However, other fish may require antibiotics and have a worse prognosis. Recently introduced fish that exhibited signs within a matter of minutes have the worst prognosis of all, and there is often no cure for trauma to the swim bladder.
Picture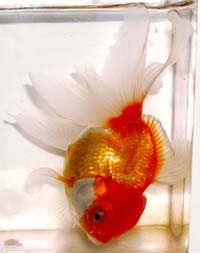 Enteric Red Mouth
Symptoms –
Dark color
Hemorrhages at base of paired fins and vent
Reddening of corners of mouth, gums, palate and tongue (hence the name of the disease)
Reddening of gill cover
Hemorrhaging in eyes
Treatments –
No known treatment
Pictures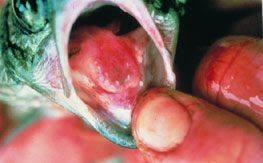 Lymphocystis (Cauliflower Disease)
Symptoms –
Cauliflower like growths on the skin and fins. It usually starts as a few small white cysts, which grow over time.
Treatments –
No known effect treatments. Do water changes frequently to reduce ammonia and nitrites will help fish battle this disease.
Pictures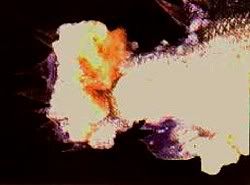 Fish Tumors -
Symptoms –
You can see tumors grow on the body
Treatments –
No known treatment for most tumors
Pictures

Anchor Worm –
Symptoms –
These parasites are elongated with two egg sacs at the posterior end. They usually embed themselves with hook-like anchors in the body wall of the fish, and a raised ulcer can develop where it attaches.
Treatments –
Can be physically removed or treat with formula from LFS
Pictures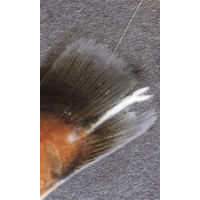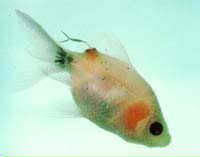 Fish Louse –
Symptoms –
It is a disk shape parasite with legs, hard to notice.
Treatments –
Maybe physically removed, formula from LFS should also help. Fish louse is usually seen on the fish that are kept outdoor.
Pictures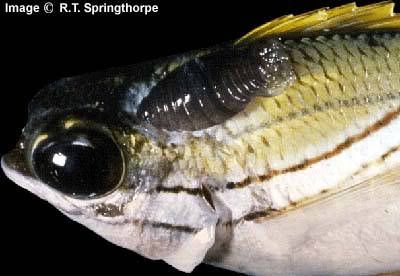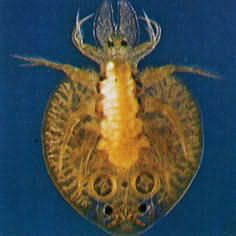 Flukes (Gill, Eye or Skin)–
Symptoms –
Rapid breathing, loss of appetite, discolored gill filaments, and swollen gills. Infected fish may also gasp at the water surface or lay at the bottom
Treatments –
Outbreaks of gill flukes can be treated with copper- or formalin-based remedies. Great care should be taken, as these treatments can be very harmful to invertebrates and even some fish.
Pictures
Information sources -
www.aquariumpharm.com
www.fishjunkies.com/
www.fishpalace.org
www.google.com